HOTEL

ISALO RANCH

Madagacar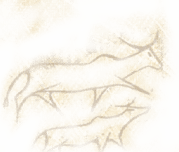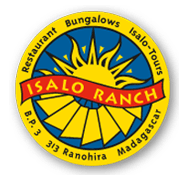 The Isalo Ranch, an eco-lodge situated close to the Isalo National Park.
A perfect place to prepare for your hiking or trekking in the most beautiful National Park of Madagascar.
This eco lodge is situated at the foot of the Isalo National Park.
« With panoramic views of the mountains »
Set in a vast natural setting, calm and tranquil, Isalo ranch offers you a relaxing haven after a day of exploring or sightseeing in the National Park.
When you take the National Route 7 southwards, the Isalo Ranch is located 5 km after the village of Ranohira, on your right at the foot of the mountain, and only 200 meters from the N7.
The entrance to the National Park is situated at the village of Ranohira, 300 km south of the central highlands provincial capital of Fianarantsoa, and 250 km from Toliara on the south-west coast.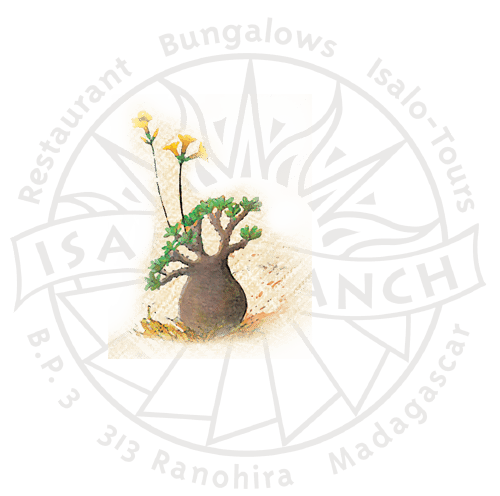 Our bungalows in the garden
Mirroring local habitats, our bungalows are built in the traditional style of the region. The materials used are red clay, timber-framed and with thatched roofs and we have added colourful stone blocks from a nearby quarry. Inside, the bungalows are cosy and comfortable with individual bath and sanitary facilities, hot water, mosquito nets and a private terrace.
The bungalows are located in a wooded area of two hectares. Walking through the gardens you will discover endemic plants of Madagascar and also many other tropical plants, there is also our herb garden, fruit trees and vegetable garden.
We have no access to public electricity and water. For environmental reasons we have chosen solar energy to produce our electricity and the hot water used in the ranch. So we do have electricity 24 hours a day, but it is not unlimited, because the current is stored in batteries. Nous avons donc l'électricité 24h sur 24, mais pas illimitée, car le courant est stocké dans des batteries.
For your convenience, we have installed sockets in the bungalows that will allow you to recharge low-power devices (such as mobile phones, laptops or cameras).
Thank you for your understanding; you are helping to preserve the environment.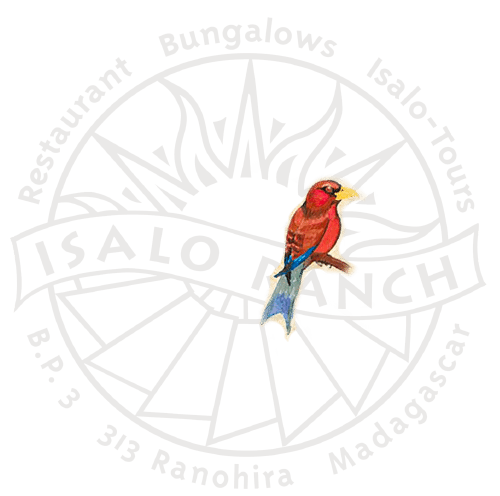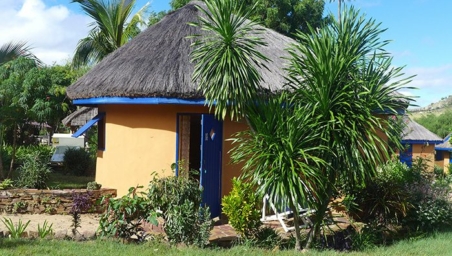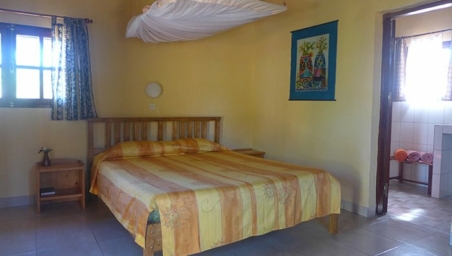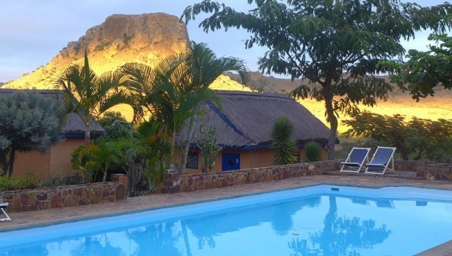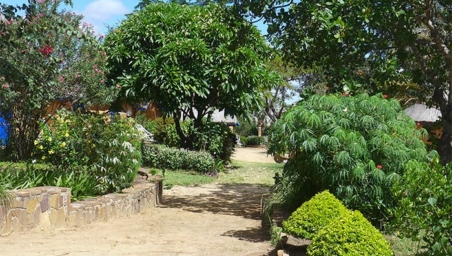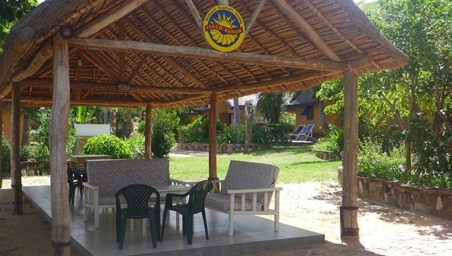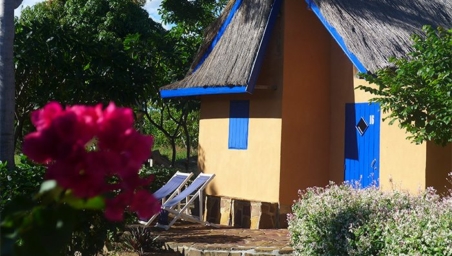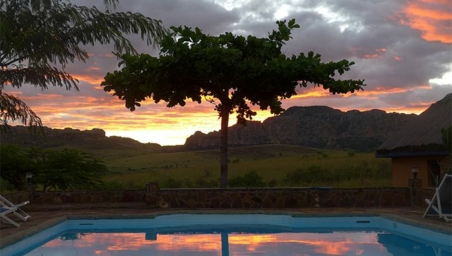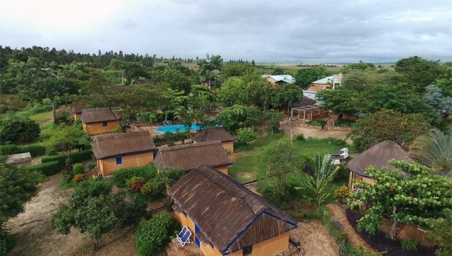 « We use solar energy and respect our nature, for a sustainable tourism. »
Flowers, fruits and animals in our garden
The restaurant with its bar and terrace
The restaurant with its terrace is at the heart of the ranch, looking over the pool and with magnificent views towards the Isalo mountains.
Sit on the terrace with a fruit cocktail or one of our famous rums, flavoured with fruits and Malagasy spices and enjoy this comfortable place ideal for meetings and exchanges with your fellow visitors.
Built in a traditional style, the restaurant offers a choice of menus filled with creative and natural foods, a cuisine inspired by local culinary influences as well as French, Asian or oriental.
It is with pleasure we propose our barbecue evenings, our homemade Malagasy dishes and our products fresh from the garden.
« Our team will do everything possible to make your stay welcoming and pleasant
in a warm and friendly atmosphere. »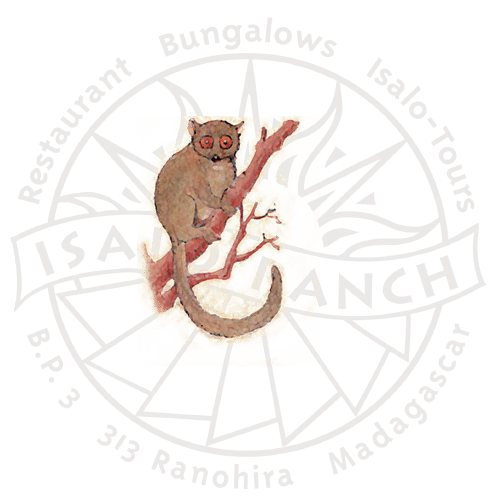 Visits to the Isalo region
Visit the Isalo National Park, a granite massif with breathtakingly beautiful landscapes and much endemic wildlife.
Several hikes such as the « Natural Pool », « The Canyon » and « Les Cascades des Nymphes or the "Blue and Black Pool », There are also tours by bike or 4×4 which are proposed by « Madagascar National Parks ». The National Association for the management of Parks in cooperation with local guides will introduce you to the extraordinary sites populated by lemurs, chameleons and fauna of the region, and explain local customs and the history of the National Park. At the park reception, feel free to ask about new places to visit, your guide will propose visits depending on the time and energy that are available to you. A fee is charged for visiting the park and for the guides, we also recommend that you spend some time in the small museum of the National Park (free admission).
80 km to the south, with easy access from the National Road 7 is another National Park, named Zombitse Vohibasia. This is a dry forest filled with Baobabs, Orchids, and Lemurs and especially by a large number of endemic birds unique in Madagascar, notably the Bernieria apperti.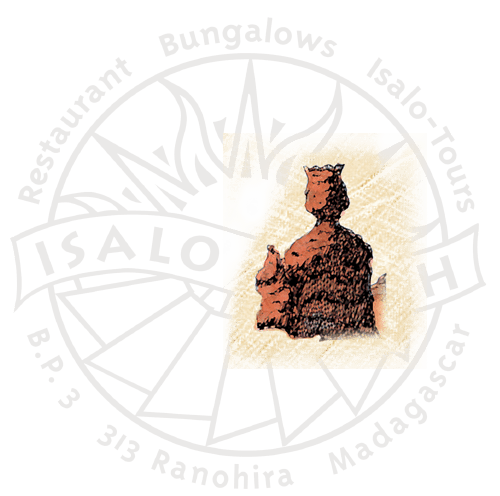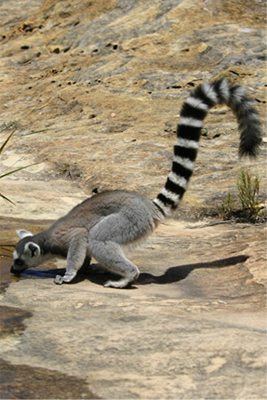 «For more information on the circuits, guides and the park entrance fees, you may visit
the web-site
www.parcs-madagascar.com,
Isalo and Zombitse Vohibasia. »
Impressions from the Isalo National Park
AIlakaka, à 25 km de l'hôtel vers le sud se trouve des carrières locales pour chercher des saphirs, une aventure qui a attiré beaucoup des spécialistes des pierres précieuses malgaches et étrangères dans cette région depuis l'année 1998. Aujourd'hui l'ancien village d'Ilakaka est devenu une ville grâce au commerce de saphirs, l'infrastructure nécessaire suive petit à petit.
Pour des informations et une visite organisée, veuillez s'adresser à « Colorline, Mine de Saphir » :
Camping : If you are equipped with a tent and sleeping bag, you can install it in the hotel grounds, communal showers and toilets are available, please find the price on the corresponding page.
At your request, our staff can organize for you an animated evening with traditional songs and dances.
Our receptionists are ready to advise you about organizing your visit to the Isalo National Par
Wifi internet access is available in the restaurant.
| | |
| --- | --- |
| Bungalow Double or twin beds for one or two persons | 40€ |
| Bungalow Double + 1 extra bed, for three people | 45€ |
| Family bungalow Double + 2 additional beds, three or four people | 50€ |
| Family bungalow 2 double + 1 extra bed, max. five persons | 55€ |
| Municipal tax and tourist sticker | 50 cents per night |
| Camping in the grounds of the Isalo Ranch | 4€/person/night |


You can benefit from a 25% reduction on accommodations, if your place of residence is Madagascar (with Malagasy identity card/CIN or Residents Card). This offer refers to our direct customers without booking through a travel agency. For any reservation, please contact our reservation department, mail info@isalo-ranch.com – telephone 03420 31902 from Monday to Friday 08:00 – 12:00 and 13:00 – 17:00. (Outside office hours, you can get information from our reception on 03402 51025).
CHILDREN'S PRICES
Breakfast, lunch and dinner are free for children up to 4 years old. Half price for children from 5 to 11 years old.
Picnic, sandwich and including a bottle of water
5€
For your guides and drivers, we have communal rooms with free meals.
MEAL PRICES
Continental Breakfast
4€/pers
Menu
11€/pers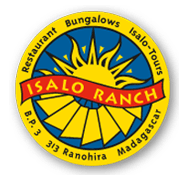 Enquiries and reservations for the Hotel ISALO RANCH by travel agency